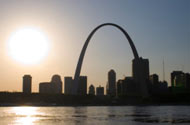 When St. Louis, Missouri decided to reconnect its downtown to its riverfront, the mayor and civic leaders knew they would have to "dig deep" to find the financial capital and social will to meet the physical and financial challenge. Initial attempts with federal agencies were rejected. Then they decided to get the public involved.

A design competition that tapped the public's input resulted in a $380 million plan with community access at its core. Because the public was involved in the actual selection and changes were proposed with public input, when it came time to fund the project, citizens passed a $90 million bond issue, private interests established a foundation to raise $250 million, and government committed $69 million. Residents' input and support were key.

The same is true for a plan for the whole Mississippi River. The nation will have to "dig deep" to find ways to sustain America's great river as a life-giving source for both the fertile Midwest – with its agricultural prowess – and the Gulf – with its seafood production and land restoration needs. And it will take extraordinary public will to blend the structural needs of the transportation industry with those of local communities wanting more access to the River. While the specifics of a plan reside with scientists and engineers, the capacity for adopting and implementing a whole river plan for America's great waterway resides collectively with river residents and stakeholders.

A National Dialogue for the Mississippi River blends both. Simultaneous meetings along the river banks involving experts at the local level – scientists, engineers, economic developers and businesses – linked in real time across the watershed, are a starting point to building both a plan and the capacity to enact a plan for the whole river.

If you'd like to see a National Dialogue for the Future of the Mississippi River, and you think friends and colleagues of yours would like to see one too, send this newsletter to a friend. It's going to take the citizens and Mississippi River supporters across the country expressing their support for a National Dialogue. Join us on Facebook and follow us on Twitter.


Cautious Shippers and Climate Change Converge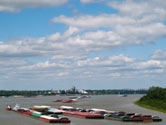 "Even though water levels are more normal this year," the Wall Street Journal reports, "businesses that depend on the river are writing protective measures into their shipping contracts, building more flood-resistant port facilities and trying to diversify their revenue streams to offset years of weather-related financial losses."

In the article, Jim Kruse, director of the Center for Ports & Waterways in Houston speculates shipping costs will go up because logistics managers are going to have to build redundancies into their systems. "Shippers, especially those that need to transport crops, don't want to be caught without a backup plan [ ] because if you get stuck, there is no tomorrow." John Johnson of Heartland Barge estimates in the article that 40 percent of barges on the river are idled due to lack of business.


Great River Road Celebrates 75 Years

September marks the 75th anniversary of the Great River Road national scenic byway. The longest scenic byway at nearly 3,000 miles, this series of roads follows the river banks of the Mississippi and, with it, marks many of the nation's most significant cultural and historic events.

Photographer Travels Great River Road and Finds America

Gayle Harper, a professional photographer, has embarked on a journey to follow a drop of water down the Mississippi River. Along the way she's recording the people she meets in photos and in writing. If you check her sites, you'll find yourself on the journey as well.


Corps of Engineers Signs Agreement for Endangered Species



The U.S. Army Corps of Engineers Mississippi Valley Division has signed on to a formal conservation plan with the U.S. Fish and Wildlife Service for the lower Mississippi River. They signed the agreement in a public ceremony during the Mississippi River Commission's public meeting at the Vicksburg City Front in August. The plan, developed under the authorities of the Endangered Species Act, outlines strategies and actions to protect the interior least tern, the pallid sturgeon and the fat pocketbook mussel.


New History of Mississippi River Published

Accomplished historian Paul Schneider has written and published the quintessential narrative, Old Man River, The Mississippi River in North American History. Pirates, river rats, hustlers and slaves, Schnieder goes back into prehistory and traces the impact of the river on North America and the United States. Surely this is a gift to those of us who see America's great river in a timeless context. Schneider provides the backup – over centuries – for why it's important for America to plan for the future of this great body of water. Listen to an NPR interview with Schneider here.