Wednesday, March 25, Anne Lewis of America's Waterway will join Bill Bertera of the Institute for Sustainable Infrastructure and Bob Sinkler, The Nature Conservancy's director of water infrastructure to discuss ISI's Envision process and how it might provide an integrated approach to the Mississippi River's infrastructure challenges and engage local citizens. The Security and Sustainability Forum (www.ssfonline.org) will host the conversation at noon EDT. Please register here.

ISI's Envision process is to engineering what LEED is to architecture. Features of the Envision process require community-resident input to ensure full integration locally - and within river-system contexts - for improvements and newly built water infrastructure. The March 25th forum will explore how applying this process to all water infrastructure projects in the Mississippi River Valley, from a set day forward, could potentially lead to standards for the watershed as well as greater engagement of river residents in the whole river's future.

The Institute for Sustainable Infrastructure - collaborating with the Zofnass Program for Sustainable Infrastructure at Harvard's School of Design and backed by the American Council of Engineering Companies, the American Public Works Association and the American Society of Civil Engineers - has created Envision, a planning and evaluative process to ensure sustainable and resilient infrastructure in the future. The process is applicable to all forms of civil infrastructure: energy, information, landscape, transportation, water and waste infrastructure. Its goal, in essence, is to build sustainability and resilience - environmental, economic and social - into American infrastructure.
Joe Piotrowski Joins America's Waterway Board of Directors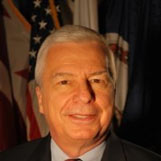 America's Waterway is pleased to announce that Joe Piotrowski, a leader in EPA's Water Division for over 20 years and most recently co-chair of the Gulf Hypoxia Task Force Coordinating Committee has joined our board of directors. Joe's other experience includes Chesapeake Bay water quality issues, a U.S. water body with high civic engagement. Joe's expertise in building public awareness and public appreciation for holistic and data-driven approaches to water quality is known and acknowledged nationally and internationally.
"I know the importance of building a public case for watershed enhancement as well as protection," Piotrowski said. "Joining with America's Waterway to find new and integrated ways to engage the public in the Mississippi River's future builds on my work both on the Gulf Hypoxia Task Force and in my earlier work with the Chesapeake Bay and other local watersheds. I look forward to helping extend both efforts as a board member of America's Waterway."
Coming Soon: USACE High Water Inspection Tour


Every year, the Mississippi River Commission takes its show on the road… or the river that is. With its own special vessel, Mississippi, the Commission - charged with making recommendations for policy, flood control and navigation - travels the river semi-annually to eyeball the infrastructure and gather public comments.


This spring's stops include:

New Madrid, Mo.




Memphis, Tenn.




Vicksburg, Miss.




Baton Rouge, La.

March 23




March 24




March 25




March 27
Show your interest and concern for the Mississippi River. Turn out and participate. The Corps of Engineers wants to hear from you and the Mississippi River Commission's inspections are the semi-annual opportunity for citizens and the Corps to hear from each other.
Up Next…. Mississippi River Parkway Commission Semi-Annual Meeting


"Planning on the River" is the theme of the Mississippi River Parkway Commission meeting April 22 - 24 in St. Cloud, Minnesota. And it's just in time, too.

Charged with oversight of the Great River Road, the MRPC will consider a variety of planning models - state, local, large and small. Highlights will include an overview of the Corridor Management Plan currently underway in Minnesota and a panel of local Convention & Visitor Bureau execs from towns along the Mississippi River.

Other highlights will include presentations of "The Long Adventure of the Great River" from John Anfinson, historian and superintendent of the Mississippi National River and Recreation Area and "The Role of the Mississippi River in Native American Life: Exploring Partnership Benefits", a talk by representatives of MnDOT and the Leech Lake Band of Ojibwe.
Embracing Mississippi River Tourism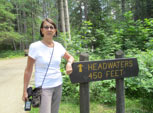 The latest America's Waterway blog poses a question in the context of rapidly expanding tourism on the Mississippi River: How will Mississippi River communities manage this new opportunity?