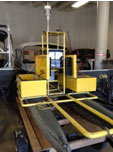 The National Great Rivers Research and Education Center in Alton, Il recently demonstrated its new monitoring buoys deployed to collect and monitor real-time, water quality data in the Mississippi, Missouri and Illinois Rivers. NGRREC's work with YSI Corporation and other agencies and research groups forms the basis for the Great Rivers Ecological Observatory Network (GREON), using technology and collaboration to expand and improve measurement of great rivers' health. Technology is meeting the long-sought need to measure results for rivers.

It's interesting that we easily accept new technologies in our quest for better science, but resist it in other parts of life. The challenge for the Mississippi River is its management, historically determined via geopolitically based sectors. To date, we've resisted adopting technological tools to overcome these arbitrary and outdated barriers. Maybe it's the initial investment that has us stymied. Regardless, we can't quite make ourselves trust these new tools for public input and decision making.

It's time to look at the new technology and communication tools and turn over a new leaf. We know that public attitudes about resource and water planning have changed, increasing expectations for stakeholder involvement. River science and climate change have increased the urgency for new approaches to the management of America's great river. Let's take a lesson from the scientists: put technology to work to ensure the World Wildlife Fund's first key to integrated river management - A long-term vision for the whole river basin that includes the input of all major stakeholders. Let's apply it to the Mississippi River's future. With technology, ingenuity, and a healthy dose of science, this goal is achievable for America's great waterway.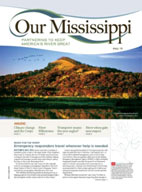 Hats Off to Corps of Engineers'
Mississippi River Education Efforts
When you think of the U.S. Army Corps of Engineers, you probably think heavy equipment and infrastructure. But for years, the folks in the St. Louis and Rock Island Corps districts have been educating both kids and adults about the ecological, cultural and economic importance of the Mississippi River. Their teacher curriculum guide, "Our Mississippi: Educational Activities about the Upper Mississippi River" won first place in the curriculum division of the National Association for Interpretation Media Awards competition. The downloadable guide is also used in teacher training segments aboard Living Lands and Waters' traveling barge as it moves around the Mississippi doing its award-winning clean-up projects. For more information, call 618-462-6979.

Another Corps education project, Our Mississippi newsletter, shines a light on important information about the significance of the Mississippi River to our nation. This publication strives to tell the story of how the Corps and other agencies and nonprofits partner to ensure the River's many uses remain for generations into the future. Click here to read the latest copy. Then answer the survey or send them an email to express your appreciation.



Baton Rouge Plans Water Campus on Banks of Mississippi River


When your state is a focal point for water problems, use it to your advantage. That's what Louisiana plans to do by capitalizing and expanding on its emerging leadership in addressing coastal land loss and hurricane protection. And, there's probably no more appropriate place to study and highlight the significance of this problem nationally and internationally than near the intersection of America's great waterway and the Gulf of Mexico. The $45 million planned campus is to house the Water Institute of the Gulf and the Coastal Protection and Restoration Authority along with other agencies, private engineering companies and nonprofit organizations. Its first project will be a $16 million, 3.3 acre physical model of the Mississippi River for testing coastal restoration methods.

America's Waterway Congratulates AmericaSpeaks
On Nearly Two Decades of Success
After 19 years of highly effective civic engagement and democratic deliberation, AmericaSpeaks closed its doors at the end of 2013. Carolyn Lukensmeyer, its founder, is still on the scene at the National Institute for Civil Discourse. We join with all the staff, facilitators and other partners in celebrating all that AmericaSpeaks has accomplished.

America's Waterway has tested other methods and emerging technology for the purposes of hosting a National Dialogue for the Future of the Mississippi River. We're currently pursuing an avenue that uses new collaborative software combined with traditional media. Stay tuned. We'd love to receive your thoughts and comments.