EPA Budget Signals Good News for the Mississippi River



Call me a cock-eyed optimist, but the news this month that the Environmental Protection Agency had allocated nearly 46 percent of its budget for clean and safe water made me feel better about the Mississippi River's future. $17 million of the budget for water is tied to nonpoint source program enhancements for the Mighty Mississippi. I know, I know. It still has many hoops and hurdles and probably won't end up being that much. Still, what a refreshing thing to think about.

Part of the beauty of the EPA budget is it supports the U. S. Department of Agriculture's Mississippi River Basin Healthy Watersheds Initiative which is funded at $320 million over four years. Putting these two developments together means the Mississippi River is getting some of the much needed attention - and commitment - it should have as America's Waterway.

This leads many to speculate on why this expanded interest in the Mississippi River now. Some will say the many groups along the River are finally having their voices heard. Some may say the research conducted by the National Research Council and funded by the McKnight Foundation is finally gaining traction. My own belief is that we finally have national leaders who come from Mississippi River states: Agriculture Secretary Valsack from Iowa and the president himself from Illinois. Proximity and first-hand experience still count for a lot. And, since we are heartland states with decreasing populations, it isn't often we have Midwesterners in such powerful positions. We shouldn't squander this opportunity.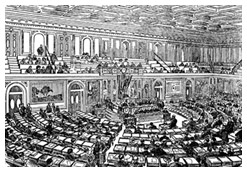 Wouldn't it be great if we had a unified Mississippi River constituency at times like this? Such a constituency could support these budget items and make strong arguments for these allocations. Who will speak for the Mississippi River in upcoming budget hearings? Who will back up the congressmen and women who will want to support these budget commitments over a wide variety of other national needs being debated in the 2011 federal budget? The Northeast-Midwest Institute reports hearings begin this week. We have to do our part.

A National Dialogue for the Future of America's Waterway aims to provide a platform for a Mississippi River constituency. America's Waterway - and its yet-to-be-developed web site - aims to provide the social and advocacy linkage a River constituency needs to make that effort. Let's heed this 2011 budget as yet another indicator of the Mississippi's importance and make sure a unified approach develops soon. Pass this along to others who should join in the effort and let us know if you agree at www.americaswaterway.org/blog/




April 13 Water Summit Features Alton, Illinois Collaboration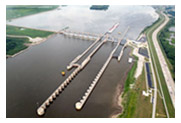 The Horinko Group's Summit Connecting Water Leaders Across Watersheds will host a panel entitled The Mississippi River: The Systems Approach: A Grassroots Perspective. Among the panelists will be Dr. Dale Chapman, Chair of National Great Rivers Research and Education Center in Alton, Ill. Chapman will highlight the way many interests - water quality research, educational institutions, economic development and tourism - have come together at the confluence of the Illinois, Missouri and Mississippi rivers to capitalize on the strengths water has brought to this community. America's Waterway will also join in the discussion to reflect on the ways the public can be engaged --- in much the same way it has been in Alton - only on a whole-River basis for the Mississippi River. What works in individual communities can also work for whole watersheds in an era of technology and social networking.



Big River Magazine

Celebrates a Decade of Speaking for the Mississippi River


In 2000, Reggis McLeod took the plunge and created a magazine from his newsletter and he's never turned back. For 10 years, McLeod has shared stories that range from biking to birding on the Mississippi River, with a healthy dose of environmental issues affecting the iconic Mississippi River. As far as he knows, McLeod believes theirs is the only magazine devoted to a river. Check it out and subscribe at www.bigrivermagazine.com.